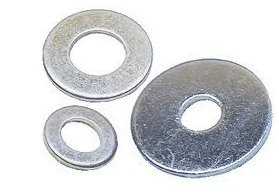 Product Description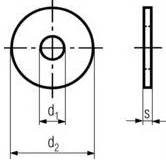 Penny Washer
Item No. BF014
1.Specifications:Penny Washers
2.Material: Mild steel,Carbon steel,Q235,A2,A4(304,316),45#,50#,
3.Class:HV100;HV140;HV200;High Strength
4.Surface treatment: plain; black; zinc-plated (ZPCR3+; ZPCR6+; BZP; YZP);Hot-Dip Galvanized;powder-coated;
5.Size:From M4.3 to M24
6.Packing:25kgs/carton, 36cartons/pallet, or according to customer's requirement

7.Certificatiojn: ISO9001-2000
Penny Washers
| | | | | |
| --- | --- | --- | --- | --- |
| Description | ID | OD | Thickness | Kg/1000pcs |
| 4.3 x 20 x 1.0 | 4.3 | 20 | 1 | 2.35 |
| 5.3 x 20 x 1.0 | 5.3 | 20 | 1 | 2.29 |
| 5.3 x 25 x 1.0 | 5.3 | 25 | 1 | 3.68 |
| 5.3 x 30 x 1.0 | 5.3 | 30 | 1 | 5.38 |
| 6.4 x 20 x 1.0 | 6.4 | 20 | 1 | 2.21 |
| 6.4 x 25 x 1.0 | 6.4 | 25 | 1 | 3.60 |
| 6.4 x 30 x 1.0 | 6.4 | 30 | 1 | 5.30 |
| 6.4 x 40 x 1.0 | 6.4 | 40 | 1 | 9.61 |
| 8.4 x 20 x 1.0 | 8.4 | 20 | 1 | 2.03 |
| 8.4 x 25 x 1.0 | 8.4 | 25 | 1 | 3.42 |
| 8.4 x 30 x 1.0 | 8.4 | 30 | 1 | 5.11 |
| 8.4 x 40 x 1.0 | 8.4 | 40 | 1 | 9.43 |
| 10.5 x 20 x 1.0 | 10.5 | 20 | 1 | 1.79 |
| 10.5 x 25 x 1.0 | 10.5 | 25 | 1 | 3.17 |
| 10.5 x 30 x 1.0 | 10.5 | 30 | 1 | 4.87 |
| 10.5 x 40 x 1.0 | 10.5 | 40 | 1 | 9.18 |
| 11 x 40 x 1.5 | 11 | 40 | 1.5 | 13.68 |
| 11 x 50 x 1.5 | 11 | 50 | 1.5 | 22.00 |
| 13 x 30 x 1.5 | 13 | 30 | 1.5 | 6.76 |
| 13 x 35 x 1.5 | 13 | 35 | 1.5 | 9.77 |
| 13 x 40 x 1.5 | 13 | 40 | 1.5 | 13.23 |
| 13 x 50 x 1.5 | 13 | 50 | 1.5 | 21.56 |
| 13 x 60 x 1.5 | 13 | 60 | 1.5 | 31.73 |
| 15 x 40 x 1.5 | 15 | 40 | 1.5 | 12.72 |
| 17 x 30 x 2.0 | 17 | 30 | 2 | 7.53 |
| 17 x 40 x 2.0 | 17 | 40 | 2 | 16.17 |
| 17 x 50 x 2.0 | 17 | 50 | 2 | 27.26 |
| 17 x 60 x 2.0 | 17 | 60 | 2 | 40.83 |
| 21 x 50 x 2.0 | 21 | 50 | 2 | 25.39 |
| 21 x 60 x 2.0 | 21 | 60 | 2 | 38.95 |
| 21 x 70 x 2.0 | 21 | 70 | 2 | 54.98 |
| 24 x 50 x 3.0 | 24 | 50 | 3 | 35.59 |
| 24 x 60 x 3.0 | 24 | 60 | 3 | 55.93 |
| 24 x 70 x 3.0 | 24 | 70 | 3 | 79.98 |
| 24 x 80 x 3.0 | 24 | 80 | 3 | 107.72 |
Thickness is for reference,other thickness is also possible.
And other sizes are also accepted.
Penny washer have a larger outside diameter compared to form A, B or C washers. They are ideal for spreading the load on a tighted fixing.
Penny washers are also called repair washers & mudguard washers.